You are here:
Home
/
News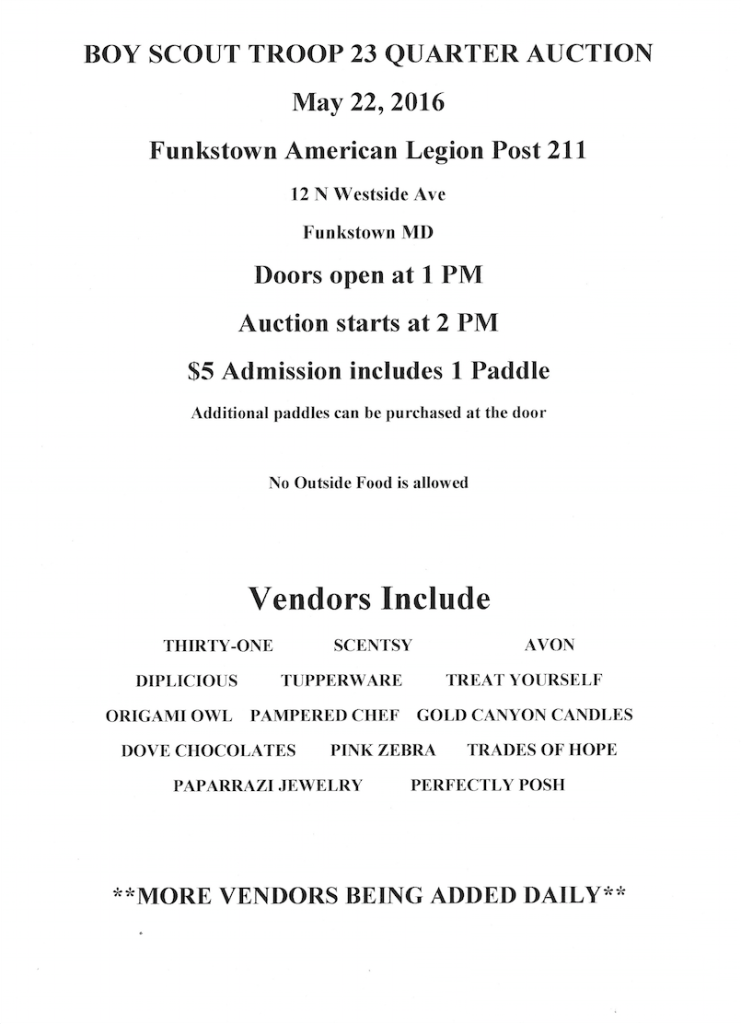 Congratulations to Sharon Chirgott Assistant Mayor and
John Phillips III, Barry Warrenfeltz, and Terry Fieser council members.
Stop buy the next Town Council meeting on May 9th at 7:00 pm to see our new members get sworn in to office.
TOWN CLEAN UP – – MAY 13 & 14, 2016
The schedule will be as follows: Friday, May 13, 2016 from 8:00 a.m. to 2:00 p.m. and on Saturday, May 14, 2016 from 8:00 a.m. to 12:00 noon. The dumpster will be located at the Funkstown Community Park, and will leave promptly at 2:00 p.m. on Friday, and at 12:00 noon on Saturday.
This service is only available to Funkstown residents. Proof of identification will be required – – driver's license, water bill. NO EXCEPTIONS!
Acceptable Items:
Refrigerators and Freezers, Air Conditioners, Dehumidifiers and Humidifiers –
Must have certified technician – tag of Freon removed
Washers and Dryers, Dishwashers, Stoves, Wood Stoves, Trash Compactors, Furnaces, Water Heaters, Exercise Equipment, Televisions, Mattresses and Box Springs, Pianos, Computers, Couches and Chairs, Cabinets and Dressers, Small Chairs and Tables, Lawn Furniture, Picnic Tables, Commodes, Bath Tubs, Sinks, Carpet (Maximum – 3 Rolls)
Grills – Remove Propane Tank
Push Mowers – Remove Gas and Oil
Non-acceptable Items:
Construction and Building Material, Propane Tanks, Cardboard, Paper and Books (must recycle), Tires, Batteries, Yard Waste, Dirt, Rocks or Sod, Root Balls, and Tree Trimmings, Concrete Materials, Paint, Fencing, Gasoline, Oil, and other Inflammables, Hazardous Waste, Explosives and Ammunition, Dead Animals, Human and Animal Feces, No Household Trash, Automobile Parts, Doors or Windows, or Piping Material
The yard waste collection will begin on Tuesday, April 5th and will continue every Tuesday until November 29th.
The Mayor and Council meeting scheduled for Monday, April 11, 2016 at 7:00 p.m. has been rescheduled to Monday, April 18, 2016 at 7:00 p.m
NOTICE
FUNKSTOWN
TOWN ELECTION
MONDAY, MAY 2, 2016
Between the hours of 9:00 a.m. and
6:00 p.m. at the Funkstown Town
Hall, 30 East Baltimore Street, to elect
ASSISTANT MAYOR
THREE COUNCIL MEMBERS
To serve a four-year term
Any qualified voter desiring to become
a candidate for office shall file at the
Funkstown Town Hall,
30 East Baltimore Street, by
Monday, April 11, 2016 by 4:00 p.m.
REGISTRATION
Last day to register voters
of the Town will be
Monday, April 4, 2016 by 4:00 p.m.
The Battle of Funkstown will be held July,15, 16, 17. This year there will be more re-enactors, food from the fire hall and the Lions and the craft show and car show again.
Yard waste pick up for grass clipping, leaves and the like will began the first Tuesday of April.
The wagon train will be coming thru town on May 21 & 22pm. This is the 28th year for the event. They should arrive at the park around 4 or 5 on Saturday and spend the night. Stop by and live some of the history they they can share with the 'Rigs" just like was used back in the day. The will be departing on Sunday around 10:00am. More info can be found at the web site National Pike Festival.
TOWN CLEAN UP – – MAY 13 & 14, 2016
The schedule will be as follows: Friday, May 13, 2016 from 8:00 a.m. to 3:00 p.m. and on Saturday, May 14, 2016 from 8:00 a.m. to 12:00 noon. The dumpster will be located at the Funkstown Community Park, and will leave promptly at 3:00 p.m. on Friday, and at 12:00 noon on Saturday.
This service is only available to Funkstown residents. Proof of identification will be required – – driver's license, water bill. NO EXCEPTIONS!
Acceptable Items:
Refrigerators and Freezers, Air Conditioners, Dehumidifiers and Humidifiers –
Must have certified technician – tag of Freon removed
Washers and Dryers, Dishwashers, Stoves, Wood Stoves, Trash Compactors, Furnaces, Water Heaters, Exercise Equipment, Televisions, Mattresses and Box Springs, Pianos, Computers, Couches and Chairs, Cabinets and Dressers, Small Chairs and Tables, Lawn Furniture, Picnic Tables, Commodes, Bath Tubs, Sinks, Carpet (Maximum – 3 Rolls)
Grills – Remove Propane Tank
Push Mowers – Remove Gas and Oil
Non-acceptable Items:
Construction and Building Material, Propane Tanks, Cardboard, Paper and Books (must recycle), Tires, Batteries, Yard Waste, Dirt, Rocks or Sod, Root Balls, and Tree Trimmings, Concrete Materials, Paint, Fencing, Gasoline, Oil, and other Inflammables, Hazardous Waste, Explosives and Ammunition, Dead Animals, Human and Animal Feces, No Household Trash, Automobile Parts, Doors or Windows, or Piping Material