Town 250th anniversary
December 8th, 2017
This year's celebration is dedicated to the memory of Irene Owens
Olde Tyme Christmas Event Schedule
TOWN HALL
*    6:00 PM-Event begins
∗    6:00 PM-Yule log bonfire by Funkstown Boy & Cub Scouts Troop/Pack 23 as they Celebrate Christmas in the park.
*    6:30 PM-Pony rides in the park.
*    6:30 PMWelty Church Praise Choir Sings on main street.
*    7:00 PM-Santa Comes to Town Hall.
*    7:45 PM-Opening of the Town Time Capsule
*    8:30 PM-The winners of the ornament
And Decorating contests, raffles and auction.
∗    All Evening-Face painting for all ages
CHRISTMAS IN THE PARK
See the Yule log fire, have some popcorn, S'omres and cook some hot dogs with the scouts.  Take a pony ride. The wagon ride will be making a stop to let passengers out to see the festivities and return to town hall later.The Scouts are right at home celebrating Christmas in the park and they invite you to join them. The Funkstown Cub Scout Pack 23 will have coco, popcorn, S'mores and helping cook hotdogs. The Funkstown Boy Scout Troop 23 will be encamped in the park for the night as well as singing carols around town and helping where they are needed.
Again this year we will have pony rides for the kids in the park. Just stop by and the Happy Hooves will be more than happy to help ride in to Christmas.
ANTIQUE AND CRAFT SHOPS.
This is also an excellent chance to get a jump on that last minute Christmas shopping, with most of the shops in town staying open throughout the evening to help you with those hard to find surprises. Don't forget to look for the new shops in town, and visit the dinner that will be held in the lower level of the fire hall again this year.
ST PAUL'S CHURCH
The annual multi-vendor craft fair will be held in the fellowship hall. The church will also be open with a variety of seasonal music in the sanctuary.
CRAFT SHOW
The craft show this year will be held at the St Paul's Lutheran Church in the New Social Hall. The show will feature many venders with crafts for the holidays and those unique Christmas gifts you have looked all over the county to find.
TIME CAPSUALE
At the 225th anniversary of the town there was a time capsule sealed and buried at the War Memorial that was to be opened on the 250th anniversary.  Will the time has come to open that time capsule so please join us at 7:45 pm to see what treasures have been waiting for us to fine.
WAGON RIDES
First wagon ride leaves at 6:30 and the last ride will be leaving at 8:30. Stops In front of The St Pauls Church and Funkstown Park so that you may disembark and enjoy the festivities there. Rides are limited to 20 people each.
RAFFLES
This year we have a lot more things to raffle: Centerpieces and baskets have donated items. Tickets will be $1.00 each. You will not believe all of the things that we have this year. So don't take a chance of missing this!
CHRISTMAS ORNAMENT SALE
Again this year, we have a new glass ornament with a hand drawn picture of one of the historic town landmarks on it.  This year will feature The bride to Willow Grove Park Circa 1920. The price is $7.00 each, including the display box, and will be available at the town hall. Box sets available in limited quantity. Art work by Loraine Smith.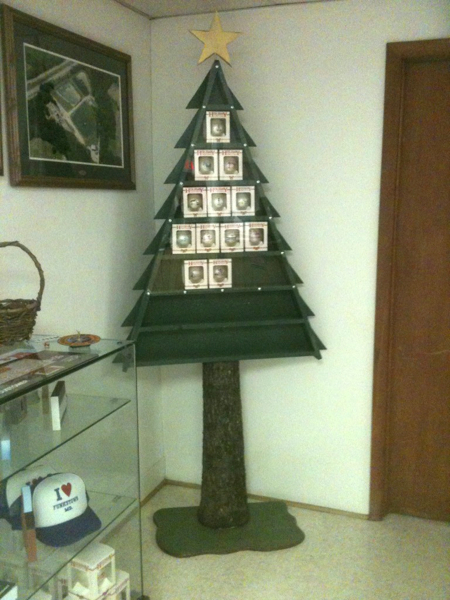 COOKBOOK SALE
The Olde Tyme Christmas Cook books are ready to go under the tree. Get delicious recipes from your favorite town folk. The prices are $7.50 each, and are also available at the town hall.
DINNER
The Funkstown Fire Company Ladies Auxiliary will be holding a dinner in the lower level of the fire hall. The food is all ways great and sure to please. Hot roast beef, gravy and french fries $7.00 French fries $2.00 Hot Dogs $1.50, Homemade apple dumplings $4.00, and assorted baked goods $1.00
DECORATION CONTEST
The decorating contest will have 3 categories:  Best Door or Window Display, Best Yard or Porch Display, Best Whole House Display.  The prize for each category will be $50.00.  Judging will be based on the following elements and are done on the point system (1-10 points per element/30 total points possible)
  1. Use of lighting.(1-10 points) a. Lighting should enhance your Christmas display. b. Remember sometimes less is more.   2. Creativity.(1-10 points) a. How the Olde Tyme theme was incorporated or interrupted.   3. Materials used.(1-10 points) a. How well and how much Olde Tyme materials where used. Ex. Ribbon, wreaths. Wood, garland, berries, candles (fake),  Evergreen, ect.   4. Use of color and ornamentation. a. Too many different colors and ornamentation can be over powering.  
JUDGES
Judges are to Kristen Davis, Miss Washington County, and Kendal Keel, Miss Western Maryland Outstanding Teen and Jeff Cline Washington County Commissioner.
CHILDERNS DECORATING CONTEST
AGAIN! – Ornament Decorating Contest- Children 12 and under. Ornament is to be no larger than 3 inches in any direction and must have a hook to hang on the tree. No batteries, no electric, no candles. Drop off your finished ornament on Thursday night between 6:30 – 7:30. Top 3 will get prizes that will be furnished by Friends Of Funkstown.
MUSIC
Check out all of entertainment in the town this year. A band will be playing around town. The St. Pauls Church has a wide range of music this year, also make sure that you visit all of the sponsors that help make this event a huge success.
DINNER
The Funkstown Fire Company is  again holding their Olde Tyme Christmas dinner during the town Christmas event. The door will open at 4:30pm and the menu is as follows
Hot roast beef, Gravy and french fries $7.00
French fries                                                $2.00
Hot Dog                                                       $1.50
Apple Dumplings                                       $4.00
Baked goods                                              $1.00